Olde Milford Press was founded and built by Pat Foster, America's strongest advocate for the nation's independent auto makers. Pat is author of 31 books on the subject and a regular columnist for Hemmings Classic Car magazine. He's written many articles including several on King Midgets and has retailed King Midget books from the time the first one came out. In 2017 Olde Milford Press took over publishing, wholesaling and retailing of King Midget books to ensure they will remain in print. The King Midget Club receives royalties on every King Midget book sold and those royalties are used to preserve the King Midget heritage. www.oldemilfordpress.com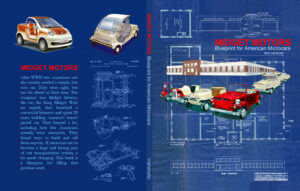 MIDGET MOTORS Blueprint for American Microcars
Charter Member Bob Vahsholtz has been researching and writing books and newsletters about King Midgets for more than two decades. This, he says, will be his last book. And yet … this is his passion … he keeps on writing! MIDGET MOTORS Blueprint for American Microcars tells the corporate story of the King Midget's builders. Claud Dry and Dale Orcutt were secretive about the business. They used even numbers for serial numbers and started over from time to time so the public wouldn't know how small the Company really was. Then after they sold out to retire, the corporate records were lost in a flood. Bob's been digging for years to learn just how they accomplished what so many others could not. He spells it out in this book and notes their success formula was almost as simple as their cars. Repeating the trick today should be not only possible, but easier. The book will be introduced at the Bowling Green Jamboree this summer. You can pre-order a copy for delivery at the Jam or for mail delivery in August. The book is 200 pages, 81/2 x 11 and well illustrated. The price is $37 plus $4 for delivery by mail from www.oldemilfordpress.com  Bob won't be at the Jam, so if you want a signed copy, send an extra $10 to cover the logistics of getting that accomplished. If you'd like to see an extract from the book, click HERE to see four pages from Chapter 4.
America's Microcar
A History of the King Midget in Pictures
Bob Vahsholtz
1445 Park View Lane, Apt 314
Port Angeles, WA 98363
This pictorial book summarizes the King Midget story including much new information found by fans like Richard Arnold and family. Some 120 illustrations accompany the history of Midget Motors in a pleasurable read. Even well informed fans will gain further understanding of how this amazing little car came to be and why so many fans still love it.
Make Driving Fun Again
The King Midget Club Special
Lee Seats, Randy Chesnutt and Bob Vahsholtz
Of the 5,000 or so King Midgets built, the Model 2 was most historic, putting Midget Motors on the map as a successful American builder of microcars. Original King Midgets are scarce, but now you can build a replica based on all new technology, and it's even more fun to drive. CAD drawings document every part and a complete bill of materials with prices is included. If you're handy with tools, have these plans and a couple of thousand dollars, you can build and drive this two-passenger car!
King Midget
The Story of America's Smallest Dream Car
Bob Vahsholtz
1445 Park View Lane, Apt 314
Port Angeles, WA 98363
The remarkable story of a couple of seat-of-the-pants engineers from Ohio took on the challenge of building automobiles in the hectic days after WWII—and succeeded! The only effort among many to be consistently profitable under the management of its founders. This is the most popular King Midget book and shows how American entrepreneurs were able to do the impossible and realize their dream.
Shop Notes
King Midget Maintenance and Restoration
Bob Vahsholtz and Randy Chesnutt
This wide ranging shop manual is three-hole punched for easy reference and addition of new articles (six or eight are published in King Midget News every year). The book includes a reformatted original King Midget manual, engine manuals, wiring diagrams and every article known to have been written about keeping these historic cars on the road. More than 400 pages, reformatted and organized by topic.

King Midget
A Historical Scrapbook
King Midget
The Lost Archives
More information on King Midget books
plus the following publications available from King Midgets West:
Model 1 Plans
John White and Bob Vahsholtz
Full documentation of the Construction of the Original King Midget Model 1, for restoration or building a replica.
King Midget
The Search for Model 1s
Dan Harms
Few examples remain of the original King Midget, and the search goes on. This booklet documents the ones Dan Harms has been able to find so far.
King Midgets West Chapter
1445 Park View Lane, Apt. 314
Port Angeles, WA  98363
https://www.kingmidgetswest.com
kingmidgetswest@gmail.com